What to Know About Submitting for Roles
OCTOBER 10, 2022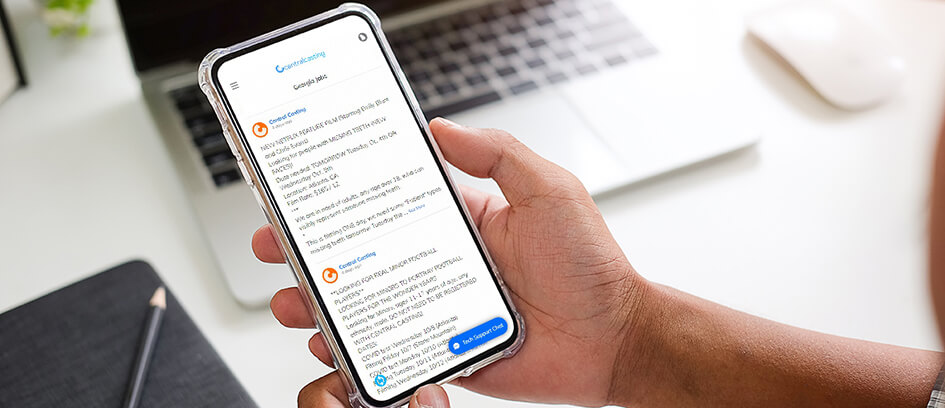 What to look for in job posts
The Jobs page is a great resource for Background Actors registered with Central Casting to find work. While Casting Directors often reach out to background directly with an availability inquiry, they may also post to our Jobs page, especially when needing specific looks, sizes, wardrobe, vehicles, or special skills.
In their posts, Casting Directors will include specific requirements for the role like portrayable age, portrayable ethnicity, hair color, hair length, sizes, SAG-AFTRA status, work dates, and more. It's extremely important to read these posts fully and submit only if you fit the description. For example, if a post is seeking someone who can portray an African American woman between the ages of 25-30 and no taller than 5'5", you must meet all those requirements to submit. If you mostly fit the description, but you are 6'2", you should not submit. We know many of our Background Actors are eager to get booked and on set, but submitting for roles you don't fit doesn't help you or the Casting Director.
Submitting for roles
Found a role you can portray? Each post will include detailed instructions for how to submit, which will usually involve sending an email with your name, contact information, and a specific subject line. Casting Directors use this information to look up your online profile in our casting platform, so it's important to send the information in the specific format requested. Keep in mind that our casting staff book multiple roles for multiple shows; a detail like a specific subject line may seem small to you, but can determine if the Casting Director sees your submission.
Depending on the role, you may be asked to submit additional information or materials, like your sizes or a current photo. These items are needed to determine if you can portray the role, don't forget to include them in your email.
After reviewing submissions, a Casting Director may send an availability inquiry from our casting platform. This message is not an offer or guarantee of work, Central Casting is simply asking if you are available and interested in working on that date or date range. You can learn more about responding to messages in our messaging guide.
Casting terms
If you're new to the entertainment industry, figuring out the language can get a little confusing. Here are some common casting terms you'll see in our job posts and messages.
Look
Your look refers to your appearance and your ability to portray a role. Your look can depend on a variety of factors, including hairstyle, facial hair, piercings, and tattoos.
Portray
Your look determines the roles you can convincingly portray. In job posts, you'll see phrases like "portrayable age" and "portrayable ethnicity." Background Actors are cast based on how well their look fits with the production's vision of a role. So even if you're a doctor in real life, you may not be able to portray that production's idea of a doctor.
18tly (eighteen to look younger)
This means the Casting Director is looking for someone who is 18 or older who can portray under 18, which is common for high school scenes.
Now that you know how to submit for roles, learn what to do once you're booked in our guides Understanding Your Central Casting Booking Details and How to Make the Most of Your Time on Set.