How to Determine Your Look
AUGUST 30, 2018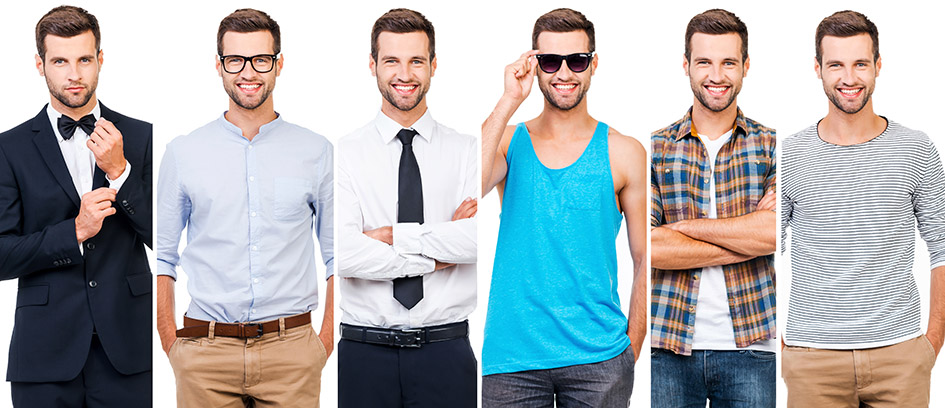 Background Actors registered with Central Casting have the opportunity to be cast in a variety of roles, from nurses, to bikers, to 1980s high school students. The key to getting cast involves more than just snapping a selfie and sending an email. Part of being a Background Actor is knowing your look. Once you have a handle on that, you'll know what jobs you're right for and increase your chances of getting cast. Here are some tips on how to figure out your look.
What is a look?
Your look refers to your appearance and your ability to portray a role without the help of wardrobe. Wardrobe is used to enhance a look, but you should be able to convincingly portray a role without it. For example, throwing on a flannel and a beanie doesn't automatically give you a hipster look.
Your look can depend on a variety of factors, like hair style, facial hair, piercings, and whether or not you have tattoos. Next time you make a change to your appearance, remember that your look may have changed as well.
How do I figure out my look?
When figuring out your look, it's important to remember that Casting Directors are casting their projects based off the aesthetic of the production. So even if you're a doctor in real life, if you don't look like that production's version of a doctor, it's unlikely you will be cast to portray that role.
How do you figure out your look? Ask your friends and family, people who you trust to be honest about the looks you can portray. Having others' opinions on your look can help you decide if you truly fit a description on a job post.
Add photos of your look
It's important to always keep your casting photo up to date. We recommend updating your photo every six months or anytime your look changes. Even if the change is minor, the smallest details can matter to a Casting Director. If you have changed your look, but haven't come in to update your photo, be sure to tell the Casting Director and have a photo that represents your current look ready in case they ask for it.
If you have unique and distinct looks, you can add photos of these looks during one of your office's Updates sessions. Adding these photos not only help Casting Directors visualize you in a role, but offer reference if you have the ability to change your look.
How to use your look to get jobs
Being a Background Actor means you are responsible for finding work and knowing your look will make looking for jobs easier. You can find all the roles we're currently casting on our Jobs page.
In their job posts, Casting Directors will leave specific instructions for what they're looking for, like specifications on look, sizes, portrayable age, and portrayable ethnicity. It's important to read this information carefully before submitting. Understanding your look ahead of time will give you a better understanding of how closely you fit the description of the role. Remember, submitting for roles you don't fit doesn't help you or the Casting Director. Don't see a role you fit? Keep checking back as Casting Directors continue to post throughout the day.
Now that you know how to determine your look, find out other ways to increase your chances of booking a job and wardrobe basics that will help enhance your look.

Loading ...