What to Know About 1970s Fashion
OCTOBER 17, 2022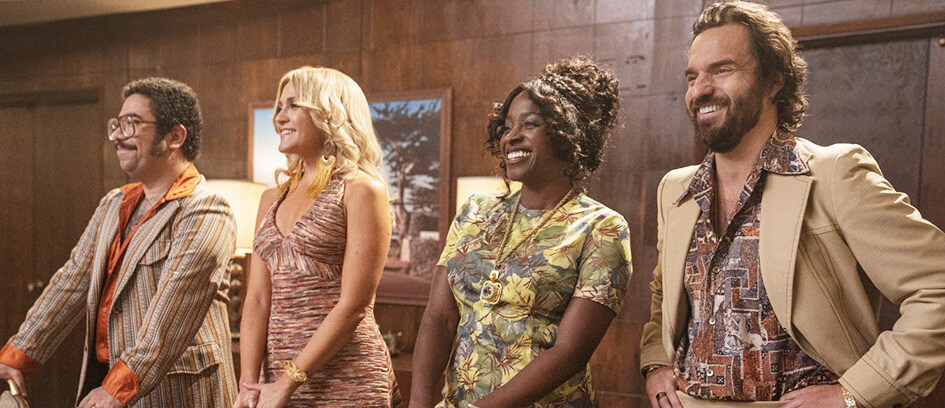 Central Casting books Background Actors for productions set in a variety of time periods, including series set in the '70s, like Minx and Daisy Jones & the Six, and shows that jump around in time, like Quantum Leap. Here's some background on 1970s fashion so you can put together the perfect outfit for set.
Know what '70s look you're going for
When you think 1970s fashion, you're probably thinking bell bottoms and fitted shirts. That was a classic look throughout the decade, but there was a lot more to '70s style than this one look. Fashion during this time was so varied and experimental that Vogue declared, "There are no rules in the fashion game now."
When tasked with creating a look, always start with your details. They will include information like the style you need to emulate and colors to either use or avoid. Keep in mind that each production has a unique aesthetic, so even if you've put multiple '70s outfits together, don't assume those outfits will work for every role or production. Whether you're asked to wear your wardrobe or bring it to set, you should always arrive with your clothing clean and unwrinkled.
Early 1970s fashion
For women, the Hippie look of the 1960s carried over to the early '70s. Popular styles included bell bottom pants, frayed jeans, midi skirts, maxi dresses, tie-dye, peasant blouses, and ponchos. Some accessories that will help pull together your early '70s Hippie outfits are chokers, headbands, scarves, and jewelry made of wood, stones, feathers, and beads.
Women in the early '70s who didn't go for the Hippie look chose more of a dressy or dressy casual wardrobe. This look included tight t-shirts or dresses with a fitted wide lapel blazer, flared pants, sweaters, cardigans, and boots. Pastels were popular colors, especially baby blue, yellow, mauve, and peach.
Men's early 1970s fashion was largely influenced by bright colors and textures. Satin shirts, sometimes with ruffles or lace, were often pared with hip-hugging bell bottoms. Bright colored three piece and double breasted suits in corduroy, paisley, wool, and crushed velvet were popular for special and even every day occasions. More casual looks for men included bell bottom jeans, tie-dye, flannel shirts, pleated pants, and sweaters with oxford shoes, platforms, flips flops, or boots.
Mid '70s styles
By the mid-1970s, the Hippie look fell out of fashion, making way for a more casual everyday style. Fitted t-shirts rose in popularity, with elaborate designs, slogans, and sports logos.
In the middle of the decade, women began to enter the workforce at a higher rate, which led to more tailored business styles. If you're putting together this type of look, think tailored blazer, midi skirt, and a fitted blouse with high heels.
Men's suits took on a slightly more European flair, with slimmer cuts, smaller waists, and a straighter leg in the pants. While suits were still popular for all occasions, there was a bigger push for more informal styles. To pull off this look, think flannel or western shirts, sweaters, sweatshirts, jeans, khaki chinos, leather jackets, and oxford shoes.
Late 1970s looks
Disco took over fashion for everyone in the mid-late '70s. Disco styles for women included jersey wrap dresses, tube tops, sequined shirts, spandex shorts, and high slit skirts with boots or chunky heels.
John Travolta's character in Saturday Night Fever is a perfect example of Disco style for men. Three piece suits with wide lapels and flared pants were popular in powder blue, beige, and white.
Generally, women's fashion in the late '70s became more relaxed. Clothes became baggier and more revealing and often resulted in an inverted triangle silhouette. To put together wardrobe for this style, look for cowl-neck shirts, sundresses over tight t-shirts, pantsuits, strapless tops, embroidered vests and jeans, skirts, or Daisy Dukes. The color palette took a turn to more earthy tones in browns, tan, grays, and light blues.
For men, the popular Disco alternative was sportswear. This look included tracksuits, jumpsuits, cardigans, sweaters, puffer vests, and low top sneakers. It was common for t-shirts to be untucked and for collars to be popped.
Want to learn more about looks from different time periods? Check out our decade guides spanning the 1930s-2000s in our wardrobe article category.