Quick Guide to 2000s Fashion
AUGUST 16, 2021
We may be almost two decades removed from the dawn of the new millennium, but it can be weird to think of anything set in the 2000s as a period piece. From movies set entirely in the decade, like 2018's Lady Bird, or shows that constantly feature flashbacks, like This is Us, many productions are exploring the recent past. So if you don't know a lot about the aughts or have just forgotten, here's what you need to know about 2000s fashion to put together the perfect look.
What '00s look are you going for?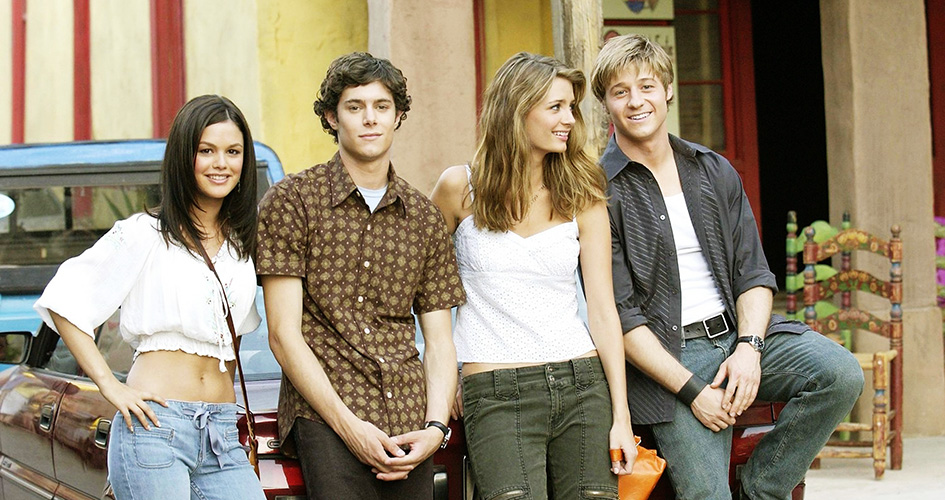 Many clothing trends in the 2000s were born out of globalization, the rise of fast fashion (affordable clothes based off runway designs usually found in department stores like Mervyn's, J.C. Penney, and Macy's), and celebrities' growing influence as style icons.
As with all decades, looks and trends varied as the '00s went on, so if you're tasked with putting an outfit together, don't assume your tracksuit straight from 2001 will work for every occasion. The 2000s were also home to trends that hit big and burnt out fast. If you're going for a particular look, be sure that style is from the right time period before heading to set.
Early 2000s fashion
Technology and Y2K had a huge impact on fashion in the early 2000s. The color palette was filled with shiny black tones and reflective metallics. While some Y2K trends were worn daily, many of these looks were reserved for going out. Popular outfits for women included mesh or handkerchief tops, box-pleated or leather skirts, shiny pants, and sparkly shoes. For men, Y2K looks usually involved leather jackets, a statement dress shirt, and chunky shoes. If you need inspiration, Britney Spears and *NSYNC were trendsetters for this type of style.
Casual clothing and leisurewear were the other big trends of the early 2000s. Denim became a staple for men and women, going beyond jeans to shirts, jackets, and hats. If you're putting together a casual style for women, think crop tops, hoodies, low-rise flared jeans, cargo pants, daisy dukes, jean skirts, off the shoulder tops, ribbed sweaters, with platform sandals, Ugg boots, or sneakers. Common looks for men included, distressed denim, cargo pants, tracksuits, rugby or polo shirts, flip flops, oxford shoes, and sneakers.
Mid 2000s fashion
As the decade went on, 2000s fashion began to take cues from 1960s bohemian looks. Yoga pants, low-rise jeans, cowl-neck shirts, peasant tops, capri pants, cropped jackets, and dresses over jeans were popular outfit choices for women. These were often paired with accessories like chunky belts, aviator sunglasses, jelly bracelets, ties worn around the neck or as belts, ballet flats, and platform boots.
The 1960s revival looks were also popular with men. Outfit options included light wash bootcut jeans, cargo shorts, classic rock t-shirts, fitted cowboy shirts, henleys, polos with popped collars, and seersucker suits.
The middle of the decade was also defined by the latest "it" items, like Von Dutch trucker hats, Juicy Couture tracksuits, and Louis Vuitton bags.
Late 2000s fashion
Many styles from the early and mid-2000s carried over to the latter part of the decade, with a few exceptions. For women, crop tops were replaced with camisoles and miniskirts gave way to babydoll, bubble skirt, and sweater dresses. There was also a 1980s and 1990s revival that reintroduced neon colors, animal prints, geometric shapes, light denim jeggings, and ripped acid washed jeans that were worn with gladiator sandals, ballet flats, and headbands. An oversized look started to gain popularity, but it was subtler than the traditional '80s fit.
Men's late 2000s fashion was a mix of 1950s and 1980s throwbacks, with letterman and black leather jackets, overcoats, slim cut jeans, Ed Hardy t-shirts, flannel shirts, and V-neck sweaters. These were often paired with dad hats, wayfarers or aviators, motorcycle boots, Converse, Vans, or sneakers. The men's power suit was also updated from the '80s to have more a slim tailored cut.
Types of '00s looks
Hip-Hop
Many rappers influenced fashion with their own clothing lines in the 2000s, including Jay-Z, Diddy, Nelly, and 50 Cent. Many looks included baggy jeans, tall t-shirts, sports jerseys, velour suits, bubble jackets, and puffer vests paired with headbands, sweatbands, Timberland boots, and sneakers like Adidas Superstars or Nike Air Force 1s.
Streetwear
Streetwear is often brand focused casual clothing, like jeans, tees, and sneakers. In the late 2000s, popular streetwear styles included distressed skinny jeans, loose fitting tops, loose or fitted tracksuits, track pants, hoodies, graphic t-shirts, vintage thrift shop tees, and Tommy Hilfiger and U.S. Polo Assn. brands. Sneakers were an important part of the look, especially retro Nike Air Jordan's and Adidas Yeezys. Shoulder bags were also a popular accessory for men.
Emo
Emo fashion trickled into the mainstream in the mid-2000s and took cues from goth and punk styles. Outfits were often all or mostly black with skinny jeans, band t-shirts, studded belts, and checkered Vans. No emo outfit was complete without the right hairstyle, most common were choppy cuts with long side-swept bangs dyed black, platinum blonde, or a bright color.
Scene
Scene styles became popular at the end of the decade and were influenced by indie, rave, and punk fashion. This look often included skinny black biker jeans, bright t-shirts and hoodies, band shirts, tutus, and studded belts. Like with emo styles, hair was a big part of the look. A popular scene hairstyle was bright neon dyed hair teased and swept to the side and accessorized with tiaras and bows.
Athleisurewear
If you wanted to be comfortable yet fashionable in the early 2000s, all you had to do was throw on your favorite tracksuit. Everyone from Britney Spears to Beyoncé and Eminem to Diddy were in on the tracksuit craze. They were often brightly colored and emblazoned with rhinestone logos and phrases.
It was also popular to mix track pants with dress clothing and designer shoes to elevate the look.
Creating your own 2000s look
You've been booked by a Casting Director and are now tasked with putting together your own look straight from the 2000s. When getting your outfit together, you should always start with your details. Depending on the project or role, your details may include very specific instructions or may leave room for you to inject your personal style. Just remember, whether you're asked to wear your wardrobe or bring it to set, you should always arrive with your clothing clean and unwrinkled.
Want to know more about looks from difference decades? Check out our guides on 1960s, '70s, '80s, and '90s fashion.