1970s Makeup Basics for Background Actors
APRIL 4, 2022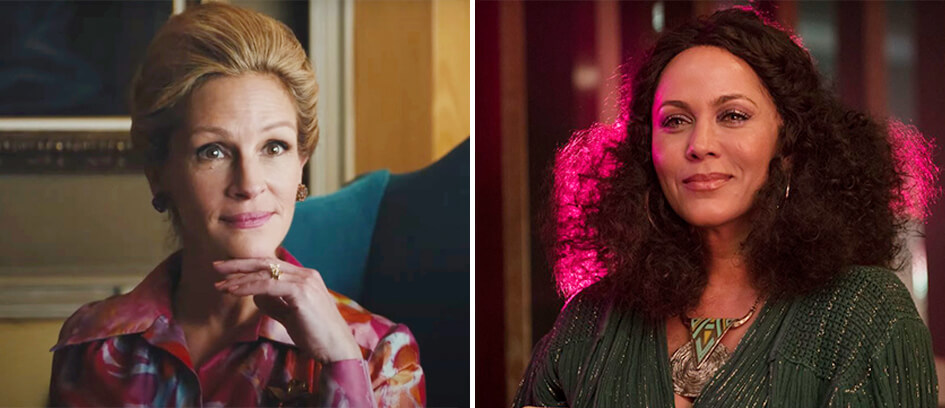 As a Central Casting Background Actor, you get the opportunity to work on a variety of projects set in different time periods, even the 1970s in shows like Minx, Daisy Jones & the Six, and Gaslit. To help give you inspiration, here's what you need to know to create an authentic 1970s makeup look.
'70s makeup overview
Makeup trends in the 1970s ranged from all-natural to bright glam Disco styles. For most looks, the base consisted of sheer barely-there foundation with pink blush and lightly filled in eyebrows. Depending on the desired style, eye shadow and eyeliner left more room for expression, like in Disco and Punk looks.
Need some real-life inspiration? Donna Summer, Farrah Fawcett, Bianca Jagger, and Joan Jett were some popular style icons throughout the decade.
1970s makeup elements
Foundation and blush
Lightweight glossy foundation that gave a youthful glow was the standard for most '70s makeup bases. Instead of the matte full coverage and heavy powders of the '50s and '60s, 1970s foundation was more about covering blemishes and creating a base than layering on makeup.
In the early part of the decade, blush was more natural, but by the mid-1970s became a prominent feature with defined pink stripes starting at the temples. Bronzer was also popular to create a sun-kissed glow.
Lips
From deep fruit colors like plum, to pastel peaches, to earthy nudes, lipstick was varied. Bright red was also a staple throughout the decade. Most lipsticks were sheen or worn with lip gloss to really get the desired shine.
Eyebrows and eyeshadow
Brows mostly took on a natural look in the '70s and were either lightly filled in or just groomed and left alone.
Blues, greens, purples, and earth tones were the popular eyeshadow colors with optional white or silver to add highlights under the brows. Most shadows were iridescent, but matte color was also an option. The darker eye crease of the '60s fell out of favor and was now blended to create a more almond shape or discarded altogether for a single shade.
Eyeliner and mascara
Those going for more natural looks usually omitted eyeliner, but for most styles eyeliner could be worn on the upper and lower lid depending on preference. Punk looks, like those popularized by Joan Jett, involved heavy liner on both lids.
Mascara was a matter of preference and came in various colors like black, brown, blue, green, and gray, though the heavy fake eyelash look of the '60s had mostly given way to more simple lashes in the 1970s.
Getting ready for set
As always when booked as a Background Actor, putting your look together starts with reading your details completely and carefully. If you're unfamiliar with how to create a certain look or are unsure how far to take your makeup, it's a good idea to start with a solid base then add finishing touches on set with the makeup you bring with you.
Keep in mind that each production will have a specific aesthetic they're going for and can deviate from trends of the decade. So even if you've worked on '70s-set shows before, don't assume a look you used previously will work for the new show you're booked on.
Now that you've got your makeup down, it's time to think about 1970s wardrobe. You can learn more about makeup trends in our 1960s and 1990s makeup guides.