7 Musical Episodes Cast by Central Casting
APRIL 27, 2020
Musical episodes have long been a TV staple to celebrate milestones, deviate from a show's normal formula, and to have some fun with characters we love. If you're a fan of musicals or if you're just looking for something new to watch, check out these popular musical episodes cast by Central Casting.
1. "My Musical," Scrubs
A patient is brought into Sacred Heart Hospital who mysteriously hears speech in the form of songs, which leads to musical numbers from the doctors and staff. Scrubs creator Bill Lawrence told Time Out that as an avid Broadway fan he always wanted to do a musical episode. Each of the installment's original songs were inspired by stage and movie musicals like Les Misérables, Beauty and the Beast, and Grease.
Where to watch: Hulu
2. "Once More with Feeling," Buffy the Vampire Slayer
Things get weirder than usual for Buffy and the gang when a singing demon comes to Sunnydale and magically makes everyone sing their innermost thoughts. The episode features songs written by series creator Joss Whedon and choreography from So You Think You Can Dance judge Adam Shankman. TVLine recently ranked "Once More with Feeling" as the best TV musical of all time.
Where to watch: Hulu
3. "That '70s Musical," That '70s Show
Fez is set to star in the school's Spring Sing, but he worries none of his friends will show up to watch him perform. His anxiety leads to daydreams about rocking out with the crew to some retro classics like "Happy Together" by The Turtles, "The Joker" by The Steve Miller Band, and "Shake Your Groove Thing" by Peaches & Herb.
Where to watch: Netflix
4. "Henry Danger: The Musical," Henry Danger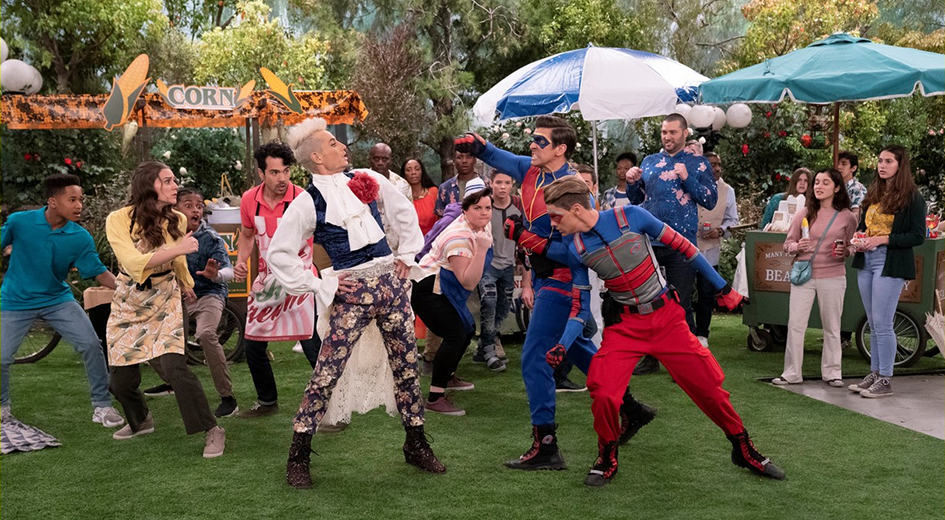 If you want to introduce your children to musicals, Henry Danger's two-episode special is a great place to start. The story follows Kid Danger and Captain Man as they try to save the town from a singing curse, which some of the townspeople enjoy more than others. The two-parter marked Henry Danger as the longest running live action show on Nickelodeon.
Where to watch: NickHits (Amazon Prime)
5. "The Nightman Cometh," It's Always Sunny in Philadelphia
It's Always Sunny in Philadelphia's musical installment revolves around a rock opera Charlie writes based on his song "The Nightman" and the stage production he recruits his friends to perform in. The episode was so popular that in 2009 the principal cast performed the play on a six-city live tour.
Where to watch: Hulu
6. "Regional Holiday Music," Community
If you like the Holidays and musicals, then "Regional Holiday Music" is the episode for you. When Greendale's glee club is incapacitated, Jeff and the study group are coerced into performing in the Christmas pageant. The episode features original songs, Glee parodies, and a Christmas rap by Donald Glover.
Where to watch: Hulu
7. "The Show," The Fosters
The Fosters' episode is a set within Brandon's Romeo and Juliet rock musical and not only gives a fresh spin on Shakespeare's classic, but uses the play as a backdrop for significant moments for the Foster family. If you're a musical theater fan, you can watch the entire stage production of "R + J: A Romeo and Juliet Tale" on the Freeform app.
Where to watch: Netflix
Want to know more about projects cast by Central Casting? Check out our articles Central Casting Background Actors Featured in 'Captain Marvel' and Stories Behind Some of Central Casting's Large Calls.