Business Looks for Background Actors
MAY 2, 2022
Central Casting Background Actors have the opportunity to portray a wide range of roles; one day you may be a teacher in That Girl Lay Lay and the next a district attorney in All Rise. A big part of working as a Background Actor is creating your look for set, this guide to business looks will help you put your next great outfit together.
Business dress codes
Just like with formal looks, there are multiple types of business dress codes, including business casual, business, and business formal. Each production has its own unique look and dress code criteria to fit the specific scene, but generally you'll see business casual in scenes set in schools and start-ups (like Abbott Elementary and Mythic Quest), business for general professional looks (like in Good Trouble and For All Mankind), and business formal in law offices and finance firms (like Law & Order and Run the World).
When putting together your look for set, remember to always start with your details, which can include very specific wardrobe instructions or more general notes. In cases where you're given more room to create your own look, keep your role and the type of show in mind when gathering your clothing. If you're working on a show that's aired episodes, those can be a great place to gather inspiration.
Business styles for women
A business casual look for women can include dress pants, skirts, blouses, sweaters, and blazers paired with light jewelry. There is more room for color and patterns in business casual, just be sure to follow the instructions in your details for any restrictions. Unless otherwise stated, it's generally best to stay away from bright colors and loud patterns.
For general business looks, pant suits and skirt suits with conservative blouses and closed toe shows are typical options. Professional dresses are also appropriate, especially when paired with a blazer. Stick to neutral tones like black, brown, gray, and navy.
Business formal is the most strict professional attire, if you're putting this look together think tailored pant or skirt suits (with tights) in black, gray, or navy with a white collared shirt and closed toe heels.
Business looks for men
For men's business casual, think slacks, chinos, or khakis paired with long sleeve button-up shirts, sweaters, loafers, or dress shoes. Color and patterns (like striped sweaters or checkered shirts) can work, but it's best to steer clear of bright colors or patterns that look too casual.
Professional business looks generally include a two-piece suit in neutral colors with button-up shirts in white or muted tones. Ties are a must and should match the rest of the suit. Pair your suit with black or brown dress shoes, dark socks, and matching belt.
Typically, men's business formal doesn't leave a ton of room for variety, with the standard look consisting of tailored and pressed suits in black, gray, or navy, with a white button-up shirt, conservative colored tie, and dress shoes.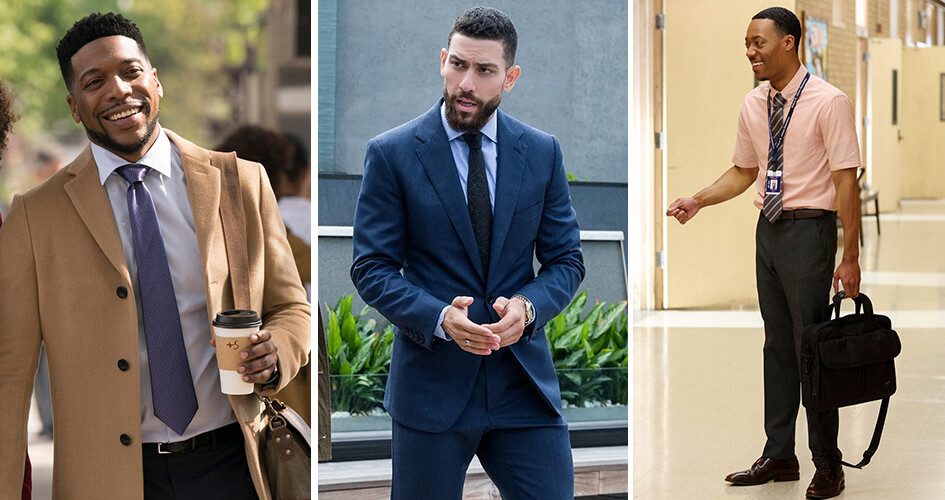 Upload business looks to your online profile
Adding photos of different looks to your online profile is a great way to show Casting Directors the types of roles you can portray. We recommend only uploading one photo per look; multiple photos in the same look will only clutter your profile. For example, if you want to add a business look, you only need to upload one photo, even if you have multiple wardrobe options. All photos you add to your online profile should be of just you, well-lit, include your face, and be free of filters or touch ups.
When you're adding new photos, it's also a good idea to verify that your sizes and other appearance information are correct and update anything that no longer reflects your current look. This helps Casting Directors when considering you for roles where production provides wardrobe and when booking Stand-Ins and doubles.
To learn more about putting wardrobe together for set, read our articles Suit Guide for Business and Formal Looks and Preparing Looks For Different Time Periods.